DELTA IS HOME!!!
It took a long while this afternoon, many bags of treats and some KFC(that's stuff is great bait! I took his littermate, Antare, with me this afternoon and kept him beside me. Delta came out of the trees and wooed as soon as he saw Antare. But he wasn't so sure about me yet. Slowly over about four hours, he let me get closer and closer. Eventually he found a safe spot, just like he does at home, and let me catch him. I carried him to the truck--he's much lighter than he was a month ago. Other than the weight loss, he's fine. Two furless spots on one front paw and alot of sap stuck in his fur and that's about it! :)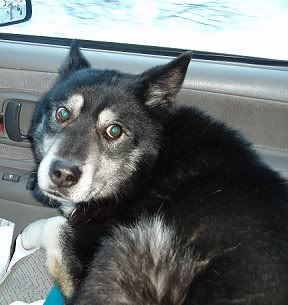 Here he is in the truck, looking more than a little freaked out!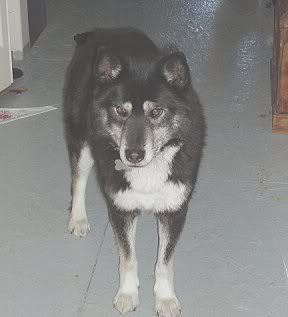 Safely back inside his house!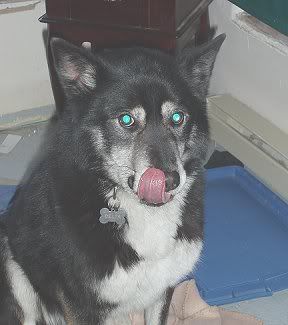 Even plain ol' kibble tastes great when you haven't eaten regularly for a month!
To all of you who sent us messages of support, sent prayers and good vibes to Delta, kept an eye for him, took a poster, called his name....THANK YOU. Thank you from the bottom of our relieved and grateful hearts. Thank you, thank you, thank you!