Ah, fresh snow, beautiful, fluffy, white stuff!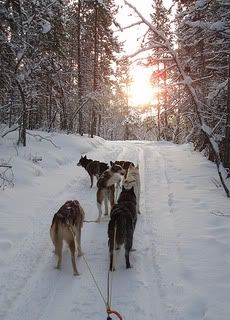 Made even better by an early bird skidooer who reset the trail for us. No idea who it was, but Thanks!!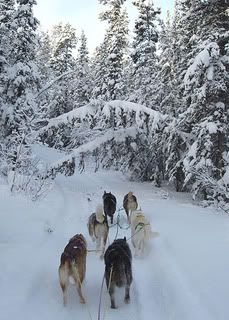 The weight of the snow is affecting more and more trees! Sometimes being tall is a problem--lots more ducking!
Photo Sharing - Upload Video - Video Sharing - Share Photos
Ducking leads to wobbly videos! Dogs today were Paxil-Mac, Ozzy-Pacer, Anvik-Franklin.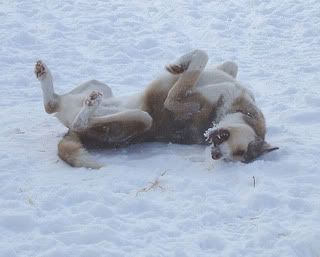 It warmed up to about -20C today. Felt almost spring like. Mac needed a snowbath to cool down after his run or he's just nuts. Could be a bit of both!
I know this next picture sucks, but some things just have to be documented anyway!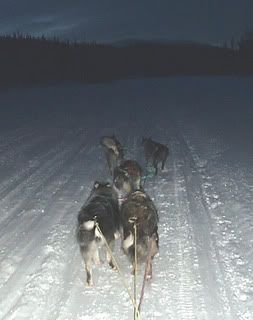 This was taken this evening. The dogs are Antare-Pingo, Hobo, Raven-Deuce. It occurred to me the other day that my leaders are rapidly aging. My two best will be 10 & 11 in a couple months. Sundin is just as good, but I can't catch him often enough to rely on him.
So I've decided to try some of the others up front. Antare got his first turn as a lead dog tonight! Antare is afraid of his own shadow most of the time; he acted like I was killing him when I moved him past his usual wheel position; I really wasn't sure he was even going to move, but he did and once we got past the chaos of the first few minutes, he settled right in. He worked hard, he looked comfortable. I don't think he really knew what he was doing, but he did what Pingo told him to and for now, that's good enough! I am very proud of my little chicken dog!