Today is my Dad's birthday. I won't say how old he is, but he is officially eligible for all the senior's discounts now!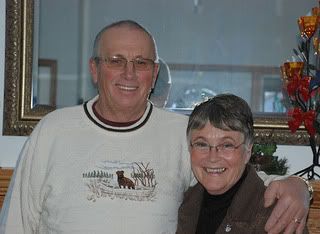 Happy Birthday, Dad! There never was a better Dad! Love you, miss you.
(No, my Mom is not short, my Dad is just that tall!)
Much to his delight, I'm sure, Dad shares his birthday with one of his furry grandkids--Franklin is eight today.
Hard to believe that the confident, happy dog currently sprawled on the couch is the same dog as the scared, scrawny mutt who first showed up here almost six years ago. You've come along way, baby!
Franklin sends birthday greetings to his sisters George, Lucy and Gracie who live with
Stacie
, or allow her to live with them!