We are home from a wonderful vacation in Cuba. We had a great time, loved the country and the people. We started with three days in Havana.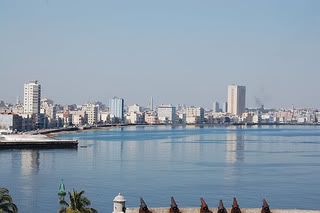 Havana is a beautiful city, full of history, chaos and life! I wouldn't call it a relaxing start to our holiday, but it was unforgettable and we both loved it.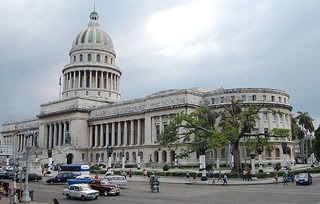 The architecture is stunning. There are remarkable old buildings everywhere. This was once the Cuban capital building, but is now home to a science institute. We stayed in the heart of Old Havana, a UNESCO world heritage site, in a 100 year old hotel. So we could walk to just about all the sites. Being a pedestrian in Havana is a bit tricky though. The Cubans drive like maniacs. There are no road signs, no crosswalks, very few lights. We got pretty good at dashing across busy streets!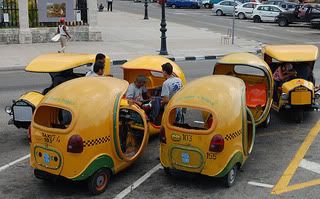 We did take a few cabs including these fun little things, Coco Cabs. Basically they are three wheeled motorcycles with two seats and a bubble like topper. Much more fun than a plain ol' car!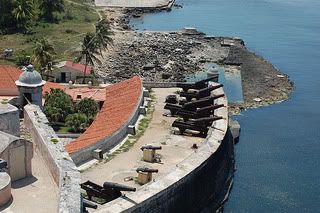 We spent a full day exploring the fortresses that protected the city for hundreds of years. I think Stuart wants a cannon in our driveway! He liked the cannons!
We heard alot of great music in Havana and came home with quite a collection of CDs. Every bar band in Cuba has cut a CD!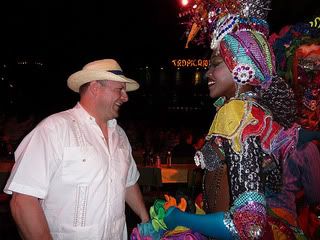 We also went to the Tropicana show, a spectacle worth every dime of the admission price.
After three days in Havana, we cut a deal with a taxi driver and got a ride down the road to the beach resort town of Varadero.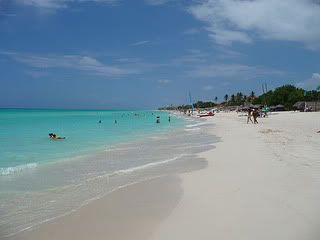 Now that was relaxing! Twenty-one kilometres of white sand beach, plenty of sun and swimming, lots of rum!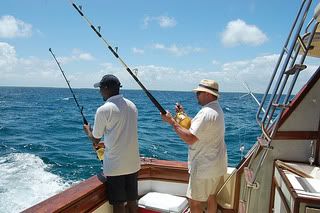 We went deep sea fishing. Didn't catch anything, but as Stuart says it's called fishing, not catching! The open bar on the boat made him a happy fisherman anyway!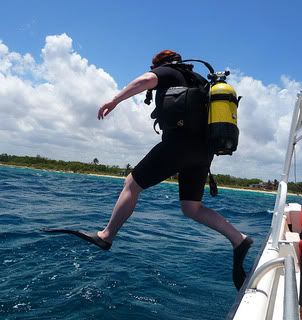 I went scuba diving. Stuart is a certified diver, but I'd never been before. His ears were acting up and he couldn't take the pressure in the ocean so he went snorkling and I went diving with Ivan, the uber-awesome dive master. Ivan was very good at getting me past the initial panic of being underwater and trying to breath!We did two dives, on a coral reef, saw lots of fish and funky underwater plants.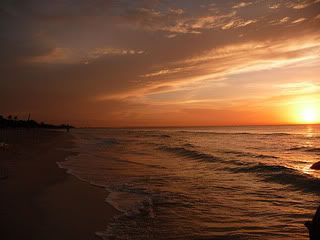 The sunsets were amazing. We just don't get sunsets like that up here. We had great weather, with a lovely cooling breeze everyday, lots of sun, no bugs and only a bit of rain on the last evening we were there.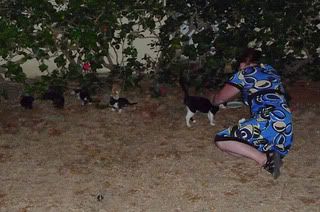 I found some kitties to feed so I was not deprived of purrs while we were away! The hotel in Varadero had a small cat colony living on the grounds. The kittens were very friendly and sucked a few people into stealing food from the buffets for them!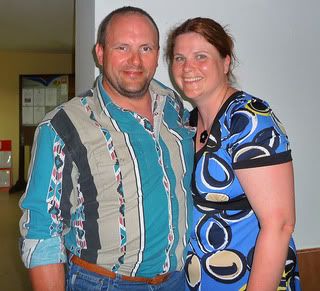 It was a great way to celebrate our tenth anniversary. We will definately go back to Cuba to explore the rest of the island. The dogs didn't traumatize the sitters so we might not have to wait another ten years for a holiday!