Preacher has given his last sermon; His big voice will no longer echo through the forest.
A few days ago, Preacher stopped eating, a most unusual thing for him. Dinner was always the highlight of his day. Yesterday he went to the vet. A barium enhanced x-ray showed a blockage in his small intestine. He was to have exploratory surgery this morning. His blood work was excellent. No complications were expected. He was supposed to come home tonight after they removed what he had eaten. Preacher did like to eat the stuffing out of squeaky toys.
You know when the vet calls again in under an hour that the news is not good. The blockage in Preacher's intestines was a large tumor. He was full of cancer with tumors on his spleen, stomach, abdomen wall and throughout his GI tract. He had been fighting this battle for a long time without showing any signs.
He became symptomatic this week when a small piece of his Sunday dinner got stuck on one of the intestinal tumors and punctured his small intestine. His prognosis was bleak, less than a 10 per cent chance he would ever recover from the intensine damage and the cancer would have taken him very soon even without this incident. We chose not to let Preacher wake up. He would not have been Preacher anymore and he would have had no quality of life. It would have been selfish of me to ask him to stay any longer. I always said that when Preacher stopped eating, it would be time. I desperately wish I had been wrong about that.
I am grateful that he waited for me, that he let me be with him as he crossed and that he made it very clear I had no choice. I am not sure I could have let him go if I had any hope left that my bossy, sassy, goof could have come home.
Preacher was my introduction to fostering and six months after his arrival, my first foster failure. Stuart told me that I should "just adopt him. No one is ever going to love that ugly ol' mutt like you do." He was right. I adored that dog. I will forever adore that mutt! I signed the papers the next morning to adopt Preacher and his best friend, Franklin. They could not be seperated at the time. Franklin couldn't function without Preacher. He was afraid of everything and Preacher was afraid of nothing. Franklin now explores his world with the same confidence Preacher once had. Perhaps Preacher knew his work with Franklin was done. Franky and I will both be a little lost without him.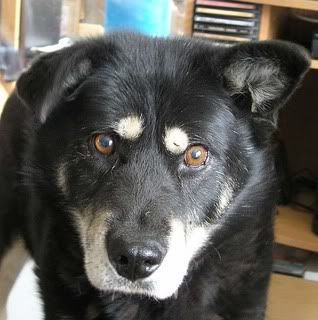 I will love and miss you forever, big fella. It is so damn quiet without you. It is appropriate that you left on the longest, darkest night of the year. You brought me great joy and love; my world is a little darker without you today.
Rest well, ol' boy. You've earned it.