It's starting to feel like all I've done is cry lately.
I took Beau to the vet this morning. He hadn't told me off for days. He was a cranky old bugger and liked to tell me off at the slightest provocation. He also wasn't eating well and had lost some weight. He had precious little to loose in the first place. He had ridiculously long whiskers. In his prime, he must have been huge. But by the time he got to me, age had taken it's toll and he was a skinny, little slip of a cat. Beau arrived here almost exactly a year ago, already elderly, battling kidney failure and hyperthyroidism. We had a mere 53 weeks together. I had hoped to borrow some more time with him.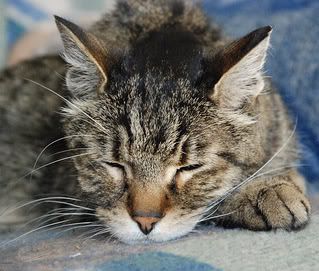 Beau was an independant soul. He did nothing if it wasn't entirely his idea. I wish he had waited for me. I would have liked to hold his paw, but he decided to take this last journey on his own. Beau had a seizure while at the clinic and could not be saved. His frail body could no longer fight the ravages of age.
I hope your last year was a good one, Beau. Maybe it made up for some of the comforts you missed as a younger kitty. I enjoyed spoiling you. I will miss your demanding yowls, cries for Fancy Feast at 3am, your bossy swats and that big purr. Godspeed, my tabby boy. I didn't know you long, but I will love you forever.