Finally a happy post!
I'm not sure where the time went, but today is Earle's 8th Birthday.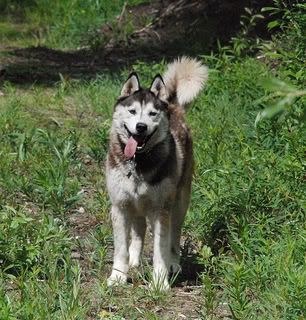 Earle was my first husky. Muskwa was around first, but he wasn't then and never will be my dog. Earle is mine. He lulled me into a false sense of security. If all Huskies were as easy to contain, train and manage as Earle is, there would be no need for seven foot fences, locks on gate latches, dig proof fence bottoms, leashes, and there would never be an emergency trip to the vet resulting from a dog fight. Earle does none of those things. He likes every other dog on the planet; he likes every person he's ever met; he is incapable of fighting; he shares his treats and toys; he even likes the cats! Life would be much simplier if they were all like Earle! Happy Birthday sweet-pea! And to your brother too. I wish he was still here to grow old with you. And that's the only even kinda sad thing I'm typing tonight...
Sundin decided to tonight would be a good day for a little breakthough. Sundin has lived here for 19 months. In that time, not once has he approached me and of his own accord let me pet him. Chained up or cornered or in harness, Sundin is quite approachable. Untethered, he's a spooky, shy, timid little dog who wants next to nothing to do with humans. He was never abused, much of his behavior is genetic and wasn't compensated for when he was a wee one. He's seven years old now and progress is slow!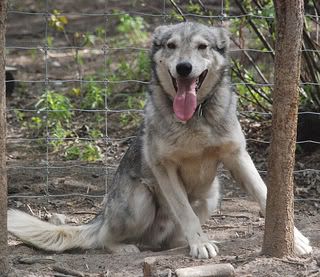 Tonight, Sundin trotted up to me, let me pet his ears and for a solid minute acted like he was enjoying it even! Those of you with normal, well adjusted dogs will think this is minor, but it almost brought me to happy tears. Then Ozzy stole Sundin's bone and he had to go get it back!