Twicket lost his battle with time late this afternoon. I could not have asked for a better crossing for him, if he had to go. He was calm, serene and in no pain. He died in my arms, which was his most favorite place to be. His breathing had been shallow for about half an hour. Then he let out two big sighs, stretched his paws out around my neck and was gone.
(Taken August 7, 2005 during a snuggle session)
I am so grateful that he waited for me to get home and that I was able to spend those last moments with him. I spent several hours today just holding him and telling him how very much I love him. My boss was kind enough to let me have a two hour lunch break and I left early so I could spend time with him. I got to tell him everything I needed to and I know that he left surrounded by nothing but love.
He was an amazing cat and I was blessed to know him. I will miss his purr, his snuggles, the way he slept around my head. I'm not sure my heart can take this. It has only been nine weeks since Dominique died.
I know that he was met at the bridge by Dominique and Hoodoo and that all three of my bridge kids are together, happy and healthy. The ravages of old age no longer affect Twicket and he is able to play and run again. I hope there are lots of honeysuckle trees up there. He did love his honeysuckle!
Rest well, my little angel. You deserve it. I wish we had more time together, but I don't regret a second of what we did have. I knew you wouldn't be here for a terribly long time when I adopted you. You were already over 13. My heart is broken again now, but you were so worth it. I love you, snuggle-buddy. I will see you when I get there.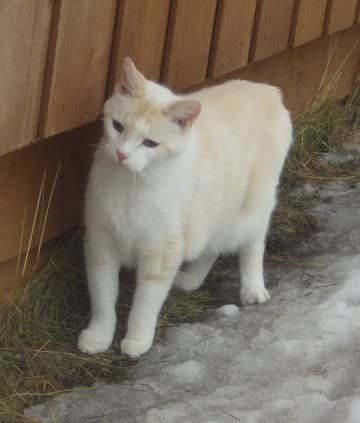 My all-time favorite pic of my beautiful boy.