Today marks two years since Pacer first arrived here. Maybe I'll leave out the part where he escaped that first night and spent almost a week lurking in the forest behind our house. He didn't go very far, but there was no way he was letting us catch him either! Course back then, Pacer was afraid of his own shadow and had just spent over a year in the shelter. The little sweetie has made such progress! Pacer gets picked on by the other dogs. He's an easy target when they are in bad moods. He wouldn't think of fighting back. In May 2004 Pacer sustained some pretty serious injuries in a fight and had to spend 3 weeks as a full-time house dog. It was awful at the time, but in retrospect, it was the best thing that every happened to Pacer. He had to put up with me and get used to all the noise and chaos that being inside this house involves. He decided the couch was pretty cool and still likes to spend hours there.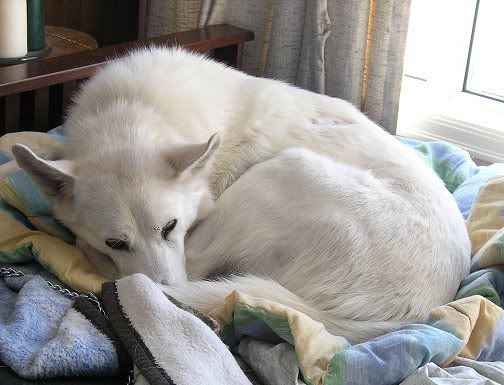 This is how he spent this afternoon.
Pacer has his own pen now that he shares with one or two dogs who are always nice to him. It was cheaper to build a new pen than to keep paying the vet bills when he got bit!
Today also marks one year since Paxil arrived. Sweet, sweet Paxil. Paxil is the start of my obsession with mushing. The very first team I ever drove, Paxil was up front. It took another three years before she was mine--her owner thought she needed to be more of a house dog. But she was worth the wait! She's delightful, happy, silly and an unfailing command leader. The mast cell cancer that almost stole her last winter is in remission. She's active and healthy again. No sign that she was ever sick, except for a funny patch of fur where the tumor was removed.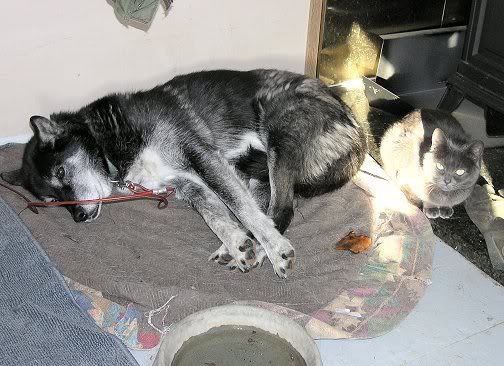 She spent her day in her most favorite place, beside the wood stove, with her feline friend Ivy nearby.
Sundin was supposed to arrive today too, but his delivery driver has not shown up yet--not uncommon for her! (Right, Steph??) But he will be here soon. It's only 7:30 now so who knows he could still show up tonight!